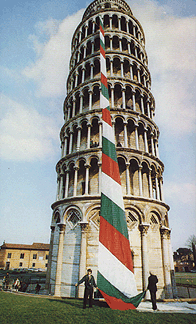 In 1986, based on an idea by Umberto Sala, founder of Tecra s.a.s. and T.C.S. s.r.l. the world's biggest tie was created. This was certified by the Guinness World Records™ in 1987. The tie was 30 times the size of a traditional tie!
The tie, which gave a clear indication of T.C.S.'s creative and inventive force, was placed on the Tower of Pisa on the 6th of January 1987.
The following are the tie's details:
Length: 1728.34 inches ~ 43.90 meters
Large base width: 106.3 inches ~ 2.70 meters
Small base width: 47.24 inches ~ 1.20 meters
It could be worn by a man (2125.98 inches ~ 54 meters) tall and with a neck circumference of (472.44 inches ~ 12 meters).
The fabric is, for obvious production requirements, 100% nylon. It was dyed, printed, textured and patterned. The tie's internal part is made in three pieces and has a (94.48 inches ~ 2.40 meters) label with the inscription: Design by Umberto Sala. The central seam was made entirely by hand. For safety reasons, the tie was tied to avoid the effects caused by wind flapping.
In February 2008 during a demonstration entitled 'Ties made in Como', Umberto Sala took part in a conference with other prominent leaders such as the president of the Industrial Union of Como, and the Official of Commerce and Fashion in Como.
The tie is located at the headquarters of TCS in Como.
Contact us for any further information or if you want to see the Super Tie live.