Actually TCS main anctivity is to conceiving and producing printed fabrics (of different kinds of silk, cotton, linen, polyester, nylon, viscose, acetate, etc.), manufacture (shirts, hats, bags, scarves, swimwear, boxers, scarves, ascot, vest, bow ties, printed table cloths, pillows), cufflinks. Our collections are printed with both the traditional print with digital printing. All our products are strictly Made in Italy, and are carefully prepared and checked.
T.C.S. also offers a digital printing service as a contractor for the customer willing to create samples or a small production. In the ongoing search for solutions that best meet customer demand, TCS is always open to new initiatives, to experiments with new fabrics, new printing technologies and so on.
Digital Printing (Ink-jet)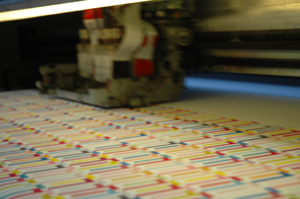 Always attentive to technological innovation, TCS, was among the first companies in 1999 to set up plants for the production of fabrics with the innovative and fast ink-jet technology and now has a leading role in Italy and worldwide. The quality of ink-jet printing compared to the traditional print is unique: with these printers you can save on installation costs (paintings, drums etc..) for small productions and take advantage of hundreds of colors for any type of production requirement. Print photo quality on fabric is no longer an utopia.